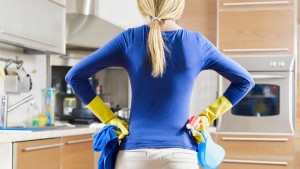 Spring Cleaning Time is Here!
It's hard to believe, but spring is ALMOST here and it's time for a fresh start! What better opportunity to bust out the cleaning supplies and begin preparing your home for the warmer weather? Check out this step-by-step guide to help you minimize clutter in every room of the house in just one weekend. That's right, you only need 2 days!
Saturday –
Bedroom
Let's start with the closet. Do you really need that jacket you haven't worn in 5 years? How about those old gym shoes? It's time to rid your closet of all the unnecessary clutter. Check out this flow chart to assist you in deciding what's worth keeping and what has to go.
Once you've rid your closet of all the unneeded clothing and accessories, you can then decide where you want to take them. You can donate your used belongings to your local Goodwill or if you have some higher end items, sell them to a nearby consignment shop. Plato's Closet, for example, will give you cold hard cash within a few hours of drop off. Call around to a few different places to make sure you find the shop that will take your gently used belongings for the best price. If you prefer online, you could use an app like LetGo or Wallapop.
Living room
As a main meeting and relaxation point for family members, relatives and guests, the living room can become cluttered pretty easily. Take a different approach to decluttering this area by racing through the room with a laundry basket and placing all out-of-place items inside. Don't deliberate for long. If you know it's out of place or you think it's a bit worn, toss it in the bin. You may be surprised at what you pick up!
Restore the items with an obvious home to their rightful position and have a long hard look at the others. Could any of those items be donated or sold? If you don't have an honest need for it, perhaps you should toss it out or pass it along.
Sunday –
Kitchen
Our lives tend to get so busy that we lose track of time. It's important to check the expiration dates on products in the refrigerator, as well as the pantry. This will help cut down on the old and outdated food products and ensure you're only consuming fresh food. While you're in the kitchen, look to see if you have any non-perishable food that you can spare. According to moveforhunger.org, 1 in 5 children in the US goes to bed hungry each night. Local food banks are always in need of donations so pack up a few cans and start Spring-cleaning for a cause!
Now that you've cut down on your clutter, employ the use of a lazy susan in your refrigerator, pantry and cabinets to create a more organized look and free up a surprising amount of space.
Don't forget about the Tupperware!
How many times have you had to stack and re-stack the Tupperware in your cabinets? More times than you would like, I'm sure. This could be avoided with the help of a CD rack. Yep, you read that correctly, use an old CD rack to help organize the lids and then stack the actual containers on top of each other. This will greatly simplify your Tupperware storage and limit the need to continue to reorganize.
Chuck the Junk Mail
Do you have piles of mail just lounging on the kitchen counter waiting to be put in a designated place? It's time to regain your counter space and get rid of the expired Chick-fil-a and Bed, Bath & Beyond coupons! Create three piles: a shred, recycle and action pile. Not sure what to shred? Here a few documents that should be kept from falling into the wrong hands:
Bank statements
Birth certificate copies
Credit card bills
Driver's licenses (expired)
Employment documents that have any identification
Legal documents
Items with a signature (leases, contracts, letters)
Medical and dental records
Papers with a Social Security number
Passwords or PIN numbers
Pay stubs
Receipts with checking account numbers, credit card numbers or any other identifying information
Tax forms
Travel itineraries
Used airline tickets
Utility bills
Take the mail you've designated as recyclable out to its proper pick-up location. Your action mail should be brought to your home desk or kitchen table to be sorted and taken care of.
Do you make too many impulse decisions and buy things you don't need when grocery shopping? Try using Instacart. You will only buy what you need, and your groceries will be delivered to you in an hour!
Bathroom
There is nothing worse than having a pounding headache and to reach into the medicine cabinet for the ibuprofen only to find that it expired a month ago. With this fresh start to spring, take a few minutes out of your cleaning routine to check your medicine cabinet and first aid kit to make sure it's completely up-to-date and stocked with all of the essentials.
Now that your home is clutter free, a quick run of the vacuum and swipe of the Swiffer will have your home looking clean as a whistle. A crisp, fresh scent wafting through the place is the final touch. Check out these all-natural ways to freshen up the aroma of your home using fruit, herbs, spices and twigs.
Was this helpful? Share with us some of your favorite spring-cleaning tips! And as always, if you know someone looking to buy, sell or rent, I appreciate your referrals!